BPM features that foster business improvements
BPMS technology provides a range of features and mechanisms that directly target inefficiencies embedded in business processes. Here we demonstrate the most important ones with an explanation on how they function and contribute to improving processes.
The mechanisms presented below come as standard features of the BPM platform and therefore require little or no effort to implement.
Ease of creating and changing the process
The main activity leading to building a BPM based solution is modelling of the improved process. The modelling is done graphically, using drag-and-drop to build a required process structure from available functional components.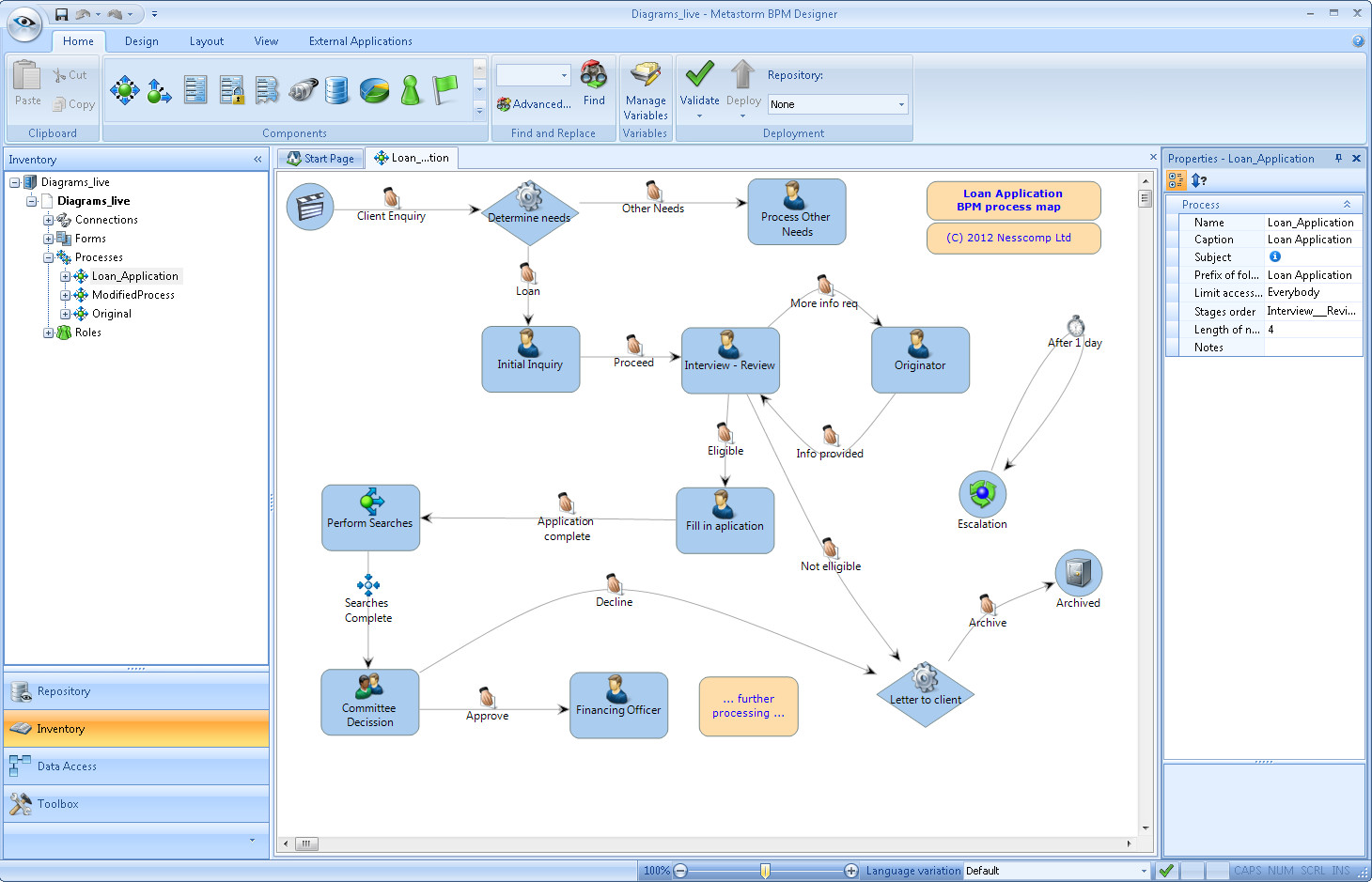 With the modelling tool you can build all the components required by the business application:
Define data structures
Define process flow
Build user interface
Define information and control flows
Assign roles to activities
Define and implement business rules
When all these components have been created, the BPM platform automatically generates a web application that executes the process. In many cases no additional coding is required.
Making changes to the process and application is done through the same modelling mechanisms, making it extremely easy to modify and enhance the process as the business changes.
Enforcing business rules
BPM systems facilitate storing and enforcing of business rules. Business rules represent the knowledge of the business and are constraints on human or business system behaviour derived from legislation, regulation or policy.
Rules are maintained by the BPM system as a set of parameters for making decisions at various process stages.
When running the process the rules are rigorously enforced and observed. Unlike the written rules which are stored in company's policy documents.
BPM consistently applies the same rules under the same conditions.
Escalating and alerting
Escalating and alerting features are added using the built-in timed and conditional components of the BPM platform, usually in conjunction with the business rules. These components allow for a changing process if the standard process is not carried out in the normal way. For example reminders can be emailed to the users (or their superiors) who do not react quickly enough to required actions. The whole process flow can even be changed if the event that occurs requires emergency handling.
Timed and conditional actions can be easily incorporated into the process through dragging-and-dropping.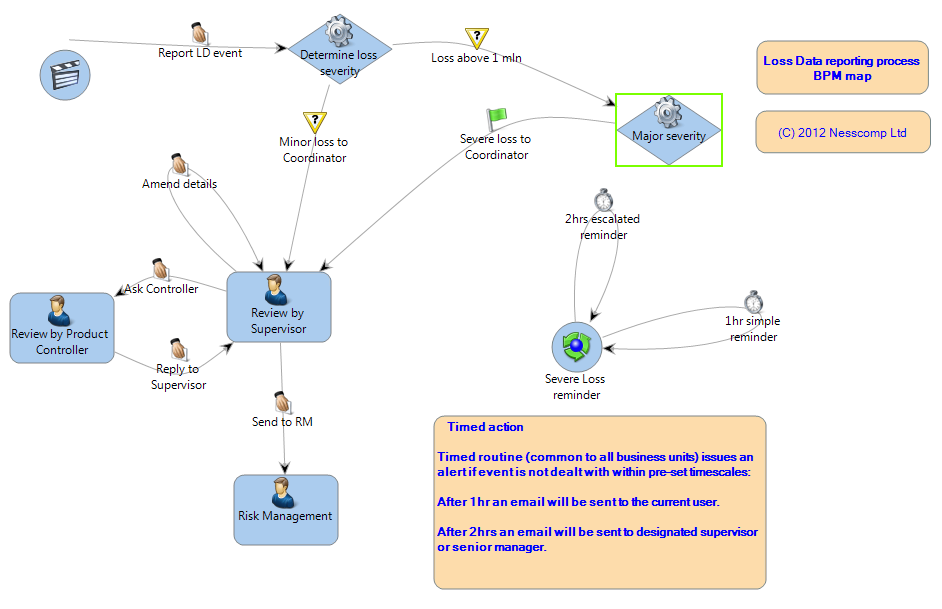 Exceptions handling
A process implemented with BPM is capable of carrying out very complex activities without the involvement of people (read later on about process automation). It can also be easily designed to direct complex decision-making actions to humans if the logic required processing them can't be easily established and programmed. The process utilises business rules with conditional control routing to redirect actions.
This capability enables a scenario where humans are only involved in making non-standard, complex decisions where the application runs the majority of the cases.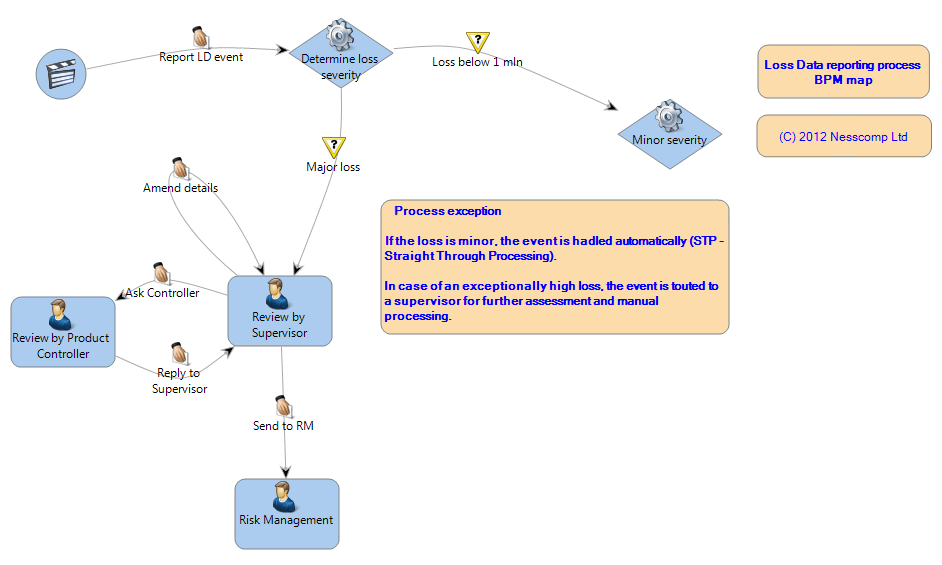 Imposing process structure
With certain collaborative processes it is very difficult to achieve a high level of repetitiveness guaranteeing application of best practice. This usually happens when many participants belonging to different departments are involved and the process itself is infrequent and spread in time. The knowledge about how to best carry such process erodes over time, affecting quality of the outcome. Fluctuation of personnel makes it even worse.
Modelling of such processes with BPM ensures that the knowledge about them is retained and each time the process runs it is carried out in exactly the same fashion.
Ensuring appropriate authority to cary out activities
When the business process is modelled with BPM, the analyst decides which users can carry out each activity. This is achieved by creating structure of roles (e.g. according to the organisational hierarchy), giving roles privileges to carry out specific activities and then assigning authorised employees to these roles.
At the execution time the BPM system makes sure that only the authorised users can carry out each activity.
Integration of people, systems and processes
BPM technology is designed to work alongside and utilize enterprise resources necessary to carry out the required process. It uses various mechanisms to integrate with these resources:
Databases – access to ODBC database systems
People – use of electronic forms and enterprise mailing systems (SMTP, MAPI, etc.)
Packaged applications (document management systems, ERP, CRM, MS Office, etc.) – access through middleware (adaptors), application API, messaging (BizTalk, SOAP, XML)
Other business processes – integration through messaging, proprietary protocols and integration middleware
The important point is that BPM does not try to replace existing resources and applications. It integrates with them and performs a controlling role from the process level.
Automation of manual activities
Combination of many of the above mechanisms allows for far reaching automation of processes. Automation allows:
Replacing human activities with system activities
Sensing of events and automatic triggering of handling procedures
Initiating processes by non-human events
Controlling movement of information
Prioritising tasks
Measurements and reporting
With BPM the whole process is driven electronically. Therefore, it is possible to record the occurrence of every event in the process and to set up measurement of pre-defined process metrics.
These metrics can be retrieved from the repository through built-in or external reporting tools. They can either be retrieved as part of the normal reporting cycle (SLAs, KPIs, Balanced Score Card, Six Sigma, etc.) or on an ad-hoc basis in the course of normal operation.
Activities tracking and audit trails
Most BPM products provide activities tracking and auditing facilities that do not even require any bespoke reporting. Authorised users can watch the progress throughout the process either through graphical animated tools or tabular audit trails that are constantly updated. The recorded audit trails can also be later presented to auditors or for quality assurance purpose.
Below is a sample grid showing a recorded audit trail.
Remote access and extensibility
BPM systems are built on web technology. They can operate as part of company's intranet or over the Internet. This gives the capability of providing remote access to the process.
With this ability the whole paradigm of enterprise collaboration changes. The processes can be extended to incorporate relevant activities of your customers, partners and suppliers. This also allows your own users to participate in processes from home and other locations.
Recommended reading …
Next section demonstrates how a BPM project is delivered in practice. Pleasenote differences between traditional system development project and the BPM one. Please read on …
Our Services
Nesscomp is a specialist Metastorm BPM solutions provider. We can deliver a comprehensive set of services satisfying your requirements at various stages of a BPM project life cycle and at different levels of your company's involvement with a BPM platform. Whether you want to imporve existing business process or automate a new one, we will be able to help.
More …
Nesscomp is a one-stop-shop for installing and maintaning ICT systems and infrastructure. From basic networking and servers to websites and business applications. Our pedigree in business improvement and BPM impacts on all forms of ICT projects – they bring tangible benefits to your business.
More …
Please feel free to contact us. Whether you have a specific requirement for our services or you would like to find out more on any topic discussed on this website, we will be very happy to discuss the matter. For a swift response, please call us on +44 20 8434 3605, or press a button belo to send an enquiry.
Enquiry form